This website can be translated
into 109 different languages.
We believe that we have found the formula for delivering obtainable results and an amazing experience for each of our valued customers while maintaining fun, supportive and enriching work environment.
Effective, honest communication allows us to deliver the best products for our customers. We communicate openly and respectfully with our suppliers and customers to ensure the smooth operation of our day-to-day activities. Only through good communication can we achieve our goals.
We are responsible for the growth of the company, our personal development, and ensuring that each customer's experience is as positive and productive as possible. We owe it to ourselves, our customers to put forth our best effort at all times. By being accountable, we can truly be proud of our accomplishments.
We love what we do. We are joyful and passionate about helping people in every aspect of their shopping experience, and we are dedicated to growing our business in an honest, professional manner.
We believe that everyone is important and that great ideas come when you least expect them. We constantly seek to better ourselves and our work by remaining humble and curious enough to learn something new every day. For us, education is our foundation.
No matter how much we know, we can better ourselves by embracing change and remaining optimistic. If we want to be better than we are now, we can't get there by staying the same. We emphasize adaptability and flexibility. When we deliver an amazing experience for each customer, we have truly succeeded.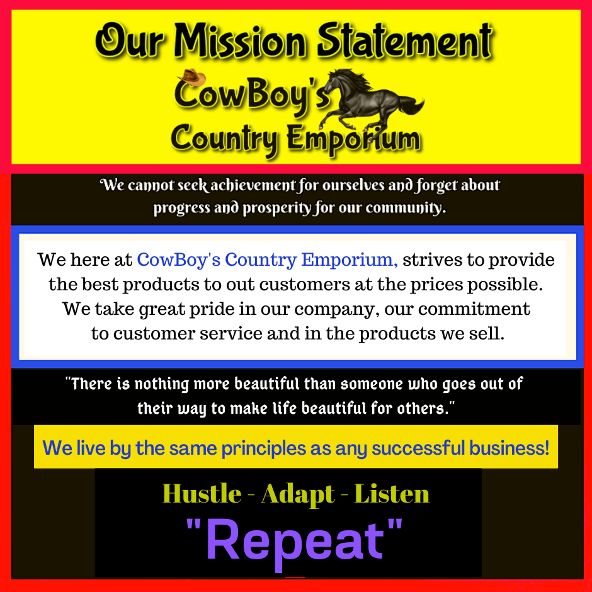 Copyright © 2010 - 2020 cowboyscountryemporium.net - Built and Maintained By Owners and Publishers - Danny and Emily Rhoades
All Rights Reserved.