This website can be translated
into 109 different languages.
Our goal as a business, is to have customer service that is not just the best but legendary.
We have found that the greatest degree of inner tranquility comes from the development of love and compassion. The more we care for the happiness of others, the greater is our own sense of well-being.

How our little country store was started and why we operate the way we do.
I want to take a moment, to tell customers, a little about me and my wife Miss Emily. We have been married 25 beautiful years. And yes I robbed the cradle. There is a 21 year age difference between us. She is my best friend and my soul mate. Most people in our community calls me Cowboy, because of the way that I dress. We love having fun and joke around with everyone. We also love helping others. Our community came to our aid, when we were in need, and we did not even have to ask. We have wonderful neighbors. To help you understand the reason why we operate the way we do. When I was a young boy, I remember when new families moved in on our street, we would all get together, and help them move in their new house. The women, would have meals prepared. The men, would help with moving furniture and appliances into their new house. The neighborhood children, would also get involved and help where they could. When a neighbor got sick, or something happen where they could not take care of chores in and around there home, for some unforeseen reason or they were in need of food, neighbors were there for one another.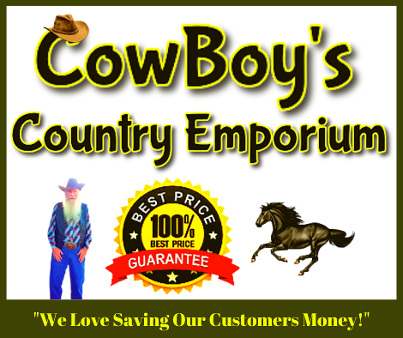 Miss Emily and I have a little Country, located on Hwy. 276, Between Emory, Texas and Tawakoni, Texas.
The name of our little country store is:
"CowBoy's Country Emporium."
Giving Back To Our Community
CowBoy's Country Emporium, was started with the ideal of helping both the consumer and the business community. With the economy as it is today, we as consumers and businesses are looking for ways to save money without loosing the quality and comfort in our lives. CowBoy's Country Emporium, was started with the ideal of building a strong business relationship in our community, with our neighbors. But most importantly, to help put financial security back into peoples lives.
"Our little country store, is business for profit with a twist. We are not a non profit business. But everything in our little country store, is donated to us."
Now since our community is blessing us with a way to make a living, we in return take it on our own, to help those that are in need, without making the feel belittled. When someone donates items to us, and ask us in return to donate the items to someone else in need, we honor their request. We will not sell those items. We give ALL convalescent items away to those in need of them. We do not and will not sell any convalescent of any kind, they are all free.
ALL children that comes to our little country store, are allowed to pick out one toy for free. Or if the child prefers a book we let them pick out a book. We never sell bibles. ALL bibles are free to who ever wants them. If someone comes to our little country store and they are hungry, they are fed before they leave. Even if we don't have much ourselves. We will not let anyone go hungry, if we know that they need to eat. We very seldom turn anyone away, if they come to us in need. Miss Emily and I, love and enjoy helping people.
Benefits of Shopping At
CowBoy's Country Emporium Online Thrift Store
Our "CowBoy's Country Emporium" Point, Texas thrift shop have been at the same location for seven years and today our cowboyscountryemporium.net online thrift store is just as popular.
Most people shop second-hand stores to find great deals on a wide variety of merchandise including, clothes for their family, home decorations, furniture, sporting goods, holiday and seasonal decorations.The Internet has made it possible for us to offer our customers an easier way to shop online from the comfort of you homes, saving you gas money and the time it would take for you to make the trip to our local thrift store. For those that are looking for that one particular treasure, you can simply search for that treasure from the home page of our online thrift store to see our stores' latest availability.
Listed below are a few of the many benefits you can expect to receive:
Great Customer Service shopping when in our online store and also at our Point, Texas Store.
Very low prices!

Special deals & discounts!

Convenience of shopping from the comfort of your home!

Customers won't have to battle with crowds of people!

Customers save gas money!

Customers saves time!

Most online thrift stores will also offer new merchandise!

Our online thrift store will tend to be organized and easy to navigate!

Easy to find merchandise through search capabilities.

CowBoy's Country Emporium offers better return policies and we will often offer discounted or free shipping options. This is a great way to shop, because you can virtually received your merchandise risk-free and if you find that the product you ordered didn't fit, wasn't what you thought it was, didn't work, etc. you simply return it.
Our "Contact Us" page listing our company's phone number, mailing address and email address as a means of communicating with our customers. So, if you find a problem with your order or have a question about a product you seen in our store, don't hesitate to contact us.
We understand Security and Safety of any online purchase has always been a concern. It is important to look for sites that have a high security level (SSL certification, don't share payment or personal information, including email, etc.); You can find this information in our store's policies, terms and conditions pages. We want customers to know that their information is safe.
Shopping our online thrift store can give you the great advantages of saving time and money purchasing your treasures, clothing and general merchandise at very low prices and receiving special discounts with the convenience of shopping from the comfort of your home.

Copyright © 2010 - 2020 cowboyscountryemporium.net - Built and Maintained By Owners and Publishers - Danny and Emily Rhoades
All Rights Reserved.